Brentano's/Over There Group
The most common French glass stereographs are often packed in boxes labeled "Brentano's," which was then and remains today a Parisian book store specializing in English-language publications. A sample box top is illustrated below. As was the case with all manufacturers, Brentano's glass stereographs were frequently packaged in the boxes the blank plates came in (Lumière et Jougla, Guilleminot, etc.), so the box top is not an infallible indicator.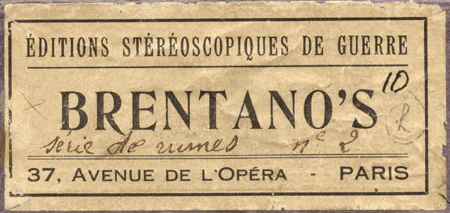 Regardless of the box tops, lots containing views from this group may be identified by several different types of non-standard title bars and, especially in the case of small-format views, by a high proportion of handwritten titles. The variety of titling styles suggest that a wholesaler or négociant, possibly Brentano's, acted as a broker for individuals and smaller companies, creating a large series of stereoviews from multiple sources. This approach contrasts with that of Verascope Richard, which apparently sold only photographs taken by Jules Richard or other company photographers; except for numbers and labels that varied over time, their stereoviews present a generally uniform appearance.
Approximately 1,000 different stereoviews from this group have been seen. They usually bear handwritten numbers and often have other numbers associated with the title bars. The handwritten numbers were applied by the wholesaler; two separate series have been seen—the more common with a high number of 240 and the other with numbers up to the high 900s. The numbers printed as part of the title bars were probably assigned by the original makers of those views. Follow this link for a Study of Title Bars associated with this group.
According to a 2004 e-mail from the company, Brentano's no longer has business records from the World War One period that would prove its role in the manufacture and sale of stereographs. There was an American connection that suggests the store had a central role. STL and LSU marketed some glass and paper stereoviews showing the American Expeditionary Forces (AEF), but the Brentano's group included extensive coverage. Brentano's frequently advertised in Stars and Stripes, the AEF newspaper (example below from the 25 October 1918 edition).
The maker of this group marketed its glass stereoviews in the United States through at least two New York companies, Over There Review, Inc. and STERECO. The Over There stereoviews had paper labels in English pasted over the centers. The labels were made of poor-quality paper and most copies show them peeled off or damaged. Although they bear the standard handwritten numbers, Over There Review assigned their own numbers and printed them on the labels. The number series has not been reconstructed because of the poor condition of the labels in extant sets and because the numbers range from 2 to 593 in sets of 224.
| | |
| --- | --- |
| | |
| Over There 56—Pont St. Vincent American band brings a bit of joy to a little town in the rear (French 39 Concert américain) | Over There Emblem |
Over There sets were sold in seven boxes of 32 stereoviews each, with one box being larger and containing a standard French viewer for 45x107 format slides. There may have been larger sets. The boxes were covered in green simulated leather and each one had a bronze-colored emblem of a doughboy and poilu shaking hands. The company address given on the boxes was 105 West 40th Street, New York, NY. Note that in the advertisement above, Brentano's listed a New York office. (Over There emblem and address courtesy of ignomini.com.)
STERECO was probably a retailer of Brentano's stereoviews in France and the US. One stereoview box bears a brass plaque that reads "The Great War and World Pictures/Exclusive Views/STERECO/New York/Paris." A smaller plaque inside the box reads "B. Meyrowitz/New York-Paris." The firm of Meyrowitz opticians continues in business in Paris today. According to its website, "Mr. Emile Bruno MEYROWITZ pioneered the optical field. He opened his first optometry shop in 1875, in Albany, New York prior to establishing the shop in Paris." The box containing 100 stereoviews and viewer is of unusually fine quality. Most contemporary boxes for glass views were made of unfinished pine or some other cheap wood; the STERECO box appears to be of polished mahogany.
The only company associated with paper views of the Brentano's/Over There group is the I.M.R. Co. of New York. The stereoview below was in a group of images bearing handwritten numbers from 1 to 13. This image, which was one of few not seen in glass stereoviews of this group, was numbered 1 and was the only one to bear a company marking. There were two different views numbered 4 and 8, so there were at least two series. In the Twenties and Thirties, the I.M.R. Co. specialized in arcade views or peep shows. Its subject matter was most often scantily clad women, but also included the war.
| | |
| --- | --- |
| | |
| Untitled Image, handwritten number "1" at center | "I.M.R. Co. 3077" closeup |
Title List Images
Copyright © 2007 Great War Photos. All rights reserved